This is a standard for couplings and containers for the trucks in scale 1:25. By following this standard, you are ensured that any container will fit onto your trailers and any truck will be able to pull the trailers.
Width
A 2.5 meter wide becomes 12 studs wide in scale 1:25.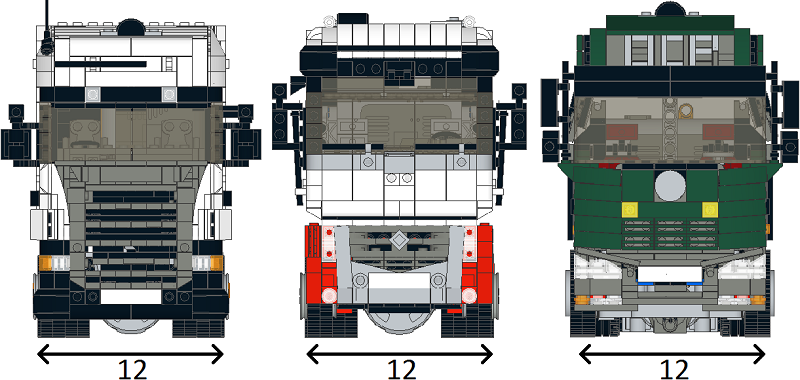 Lengths
There should be at least 9 studs of free space between the trailer knob and the cab of the truck.
The truck is only allowed extend up to 8 studs behind the trailer knob.
The trailer may at most extend 7 studs ahead of the knob.
Behind the knob there must be at least 10 studs of free space.

Wheels
The following types of wheels and tires are well suited for Model Team trucks in scale 1:25 (and scale 1:22 as well):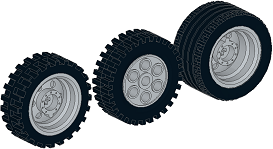 The 56904 wheel 43.2x14 with either 30699 tyre or 56898 tyre shown on the left. These parths are currently in production.
The 2695 Model Team wheel with 2696 tyre shown in the middle. These parts are discontinued.
The wide 56145 wheel 43.2x22 with 44309 tyre shown on the right. These parts are currently in production and have superior grip, but do not look as realistic as the other combinations.
Couplings
The coupling of a truck must latch to a trailer coupling knob consisting of a 2x2 round brick (shown in red) and have a flat surface.
The surface is at a height of 10 plates (or 3 bricks and a plate) above the brick that connect to the wheel.
See the Model Team building instructions for examples of how to construct latch mechanisms.
Containers
In scale 1:25 a 20ft. container becomes 12 studs wide, 30 studs long and 10 bricks tall.
A 40ft. container is 60 studs long.
Our standard for containers is based on our building instructions for 20ft. and 40ft. containers. The standard allows containers to be lifted and stacked.
A forklift can lift the 20ft. container because of the two 2x1 holes in floor of the sides.
A crane can grab onto the 1x2x2 panels in the top corners.
The cheese slopes on the top and cavity beneath ensures interlocking between containers.
Questions
If you have any questions or suggestions, please e-mail Lasse Deleuran at lassedeleuran@gmail.com.