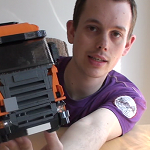 Welcome to c-mt.dk!
My name is Lasse and I have been building with LEGO® bricks even before learning how to walk. What I find fascinating about LEGO is how you can take the LEGO brick, which represents a restricted, rigid and systematic world and then twist it, turn it around, and place it in whole new ways in order to create works of art.
Since 2007 I have exhibited models at international LEGO events which quickly lead to my first commissions. Commisions vary from small anniversary gifts, company logos, mosaics to large event builds. Feel free to contact me for a quote.
I want to share my passion with you. This is why everything you find here is free. There are LEGO building instructions for many of my most popular models as well as software that can help you create your own amazing creations. This includes the popular LEGO mosaic creator LDDMC.