MAN TGS 8x4 cement truck Go to building instructions.
Building instructions

View the full parts list with links to BrickLink making it easy to find retailers selling the parts you need.
Parts list

This model is controlled using LEGO Power Functions.

Difficulty: Medium.

Number of elements: 1518.
#pcs
1518
Created January 9, 2014.
Last updated July 25, 2015.
Jul
25
2015
Scale: 1:25, Model Team.
Scale
1:25
"Number of wheel sets" x "Driven wheels": 8x4.
Type of Power Functions motor for drive: L.
Gearing from motor to wheels: 5:7.
Differential type: Standard.
Drive

8x4
Type of steering geometry: Linear.
Type of Power Functions motor used for steering: Servo.
Steering

Linear
This model has 2 opening doors
Doors

x2
Created by Lasse Deleuran.
Create a BrickLink Parts list (XML format) for import into BrickLink wanted lists.

Go to the YouTube video for this model.

Go to the Brickshelf folder with this model.

Click to download .mpd file to be open with LDraw tools such as MLCad and LDView. Print building instructions.

About this model
This MAN TGS cement truck is a relatively sturdy construction. There are, however, a couple of things which are recommended should you desire to build your own:
Please refer to the pictures further down which show how to connect the electrical components of this model.
In the building instructions you will encounter some assisting images showing how to route the wires. It is recommended to use this routing. The wires in the pictures are color coded similarly to the picture furhter down on this page.
Please check that all the functions work while you are building the model.
Watch the video to see how to control the functions and how to load the barrel.
---
---
The Power Functions components of this truck are connected as follows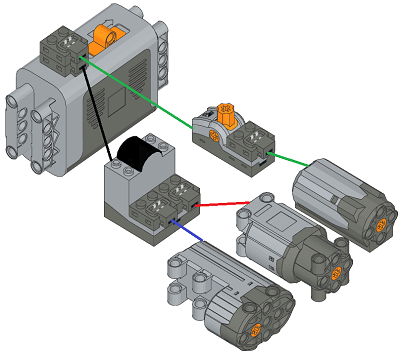 ---
Remote controls
We recommend using the Power Functions remote for controlling this truck.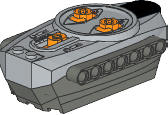 If the truck is to be driven by people who do not have experience with LEGO Power Functions, then we recommend using our modified remote which blocks the channel selector and uses a long axle as a pointing device.

Building instructions for this LEGO model
The building instructions are made by building the LEGO models in MLCad and generated in LDView using an old version of LPub. All this software is part of LDraw.
Contact
If you have any corrections or suggestions, please e-mail Lasse Deleuran at lassedeleuran@gmail.com.
Advertisement to keep the servers running