Container trailer for 20ft containers with simple legs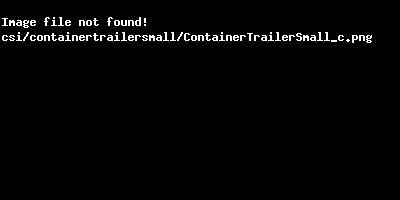 Go to building instructions.
Building instructions

View the full parts list with links to BrickLink making it easy to find retailers selling the parts you need.
Parts list

Difficulty: Easy.

Number of elements: 304.
#pcs
304
Created August 25, 2011.
Aug
25
2011
Scale: 1:25, Model Team.
Scale
1:25
Created by Lasse Deleuran.
Create a BrickLink Parts list (XML format) for import into BrickLink wanted lists.

Go to the YouTube video for this model.

Go to the Brickshelf folder with this model.

Go to the Rebrickable page for this model.

Click to download .mpd file to be open with LDraw tools such as MLCad and LDView. Print building instructions.

About this model
The legs of this container trailer are very simple and lift up once a truck is attached.
The trailer is very sturdy, but the wheel guards might fall off during play.
All the 20ft containers fit on top of this trailer.
---
Building instructions for this LEGO model
The building instructions are made by building the LEGO models in MLCad and generated in LDView using an old version of LPub. All this software is part of LDraw.
Contact
If you have any corrections or suggestions, please e-mail Lasse Deleuran at lassedeleuran@gmail.com.
Advertisement to keep the servers running