Bell 206B Jet Ranger Go to building instructions.
Building instructions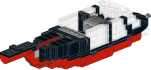 View the full parts list with links to BrickLink making it easy to find retailers selling the parts you need.
Parts list

Difficulty: Hard.

Warning! Fragile model not intended for children's play.
Warning

Fragile
Number of elements: 631.
#pcs
631
Created June 30, 2013.
Jun
30
2013
Scale: 1:25, Model Team.
Scale
1:25
This model has 4 opening doors
Doors

x4
Created by Lasse Deleuran.
Create a BrickLink Parts list (XML format) for import into BrickLink wanted lists.

Go to the YouTube video for this model.

Go to the Rebrickable page for this model.

Click to download .mpd file to be open with LDraw tools such as MLCad and LDView. Print building instructions.

About this model
This scale model of a Bell 206B Jet Ranger is highly detailed and the doors open. This, however, comes at the price of not being very robust. Several parts come off easily - especially when opening the doors or turning the rotors.
In order to build the numbers spelling "5590" on the sides as shown in the video, one has to use stickers for the horizontal lines in the middle of the letters. This is I have choosen not to include the letters in the building instructions.
The helicopter fits on top of the helicopter trailer, and should be secured using chains for the landing gear and strings for the main rotor blades.
---
Building instructions for this LEGO model
The building instructions are made by building the LEGO models in MLCad and generated in LDView using an old version of LPub. All this software is part of LDraw.
Contact
If you have any corrections or suggestions, please e-mail Lasse Deleuran at lassedeleuran@gmail.com.
Advertisement to keep the servers running