Scania R 4x2 Highline
Building instructions

Parts list

This model is controlled using LEGO Power Functions.

Difficulty: Medium.

Number of elements: 821.
#pcs
821
Created December 12, 2012.
Last updated May 15, 2013.
May
15
2013
Scale: 1:25, Model Team.
Scale
1:25
"Number of wheel sets" x "Driven wheels": 4x2.
Type of Power Functions motor for drive: XL.
Gearing from motor to wheels: 5:7.
Differential type: Standard.
Drive

4x2
Type of steering geometry: Ackermann.
Type of Power Functions motor used for steering: Servo.
Steering

Ackermann
This model has 2 opening doors
Doors

x2
Created by Lasse Deleuran.

Go to the YouTube video for this model.

View instructions on BrickHub.org

Go to the Brickshelf folder with this model.

Go to the Rebrickable page for this model.

Click to download .mpd file to be opened with LDraw tools such as MLCad and LDView.

About this model
This truck sports both a sturdy construction and advanced technic functionality with the auto-decoupling mechanism.
Although the truck is sturdy, the mirrors can fall off rather easily. I recommend using the mirrors of the type seen on the Scania 6x4 for improved sturdiness.
Note. The orange truck shown in the video is the same as this red truck, not to be confused with the building instructions showing the discontinued orange Scania Highline.
---
---
The Power Functions components of this truck are connected as follows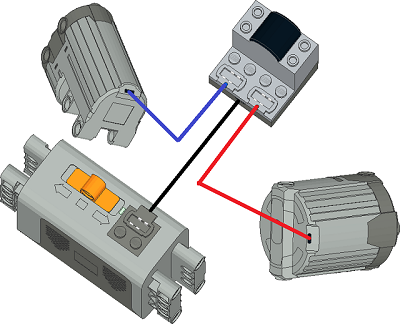 ---
Remote controls
We recommend using the Power Functions remote for controlling this truck.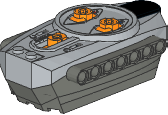 If the truck is to be driven by people who do not have experience with LEGO Power Functions, then we recommend using our modified remote which blocks the channel selector and uses a long axle as a pointing device.

How to build your own model
You can build your own copy once you have all the parts in the parts list.
This model is on

and you can use their features to find out which parts you don't already have, as well as where to purchase them.
To see where to purchase all the parts, simply go to the rebrickable page for this model and use the functionality for either creating a wish list on BrickOwl, on BrickLink, or use the "Multi-Buy" feature which is able to search in both BrickOwl, BrickLink and independent stores.
If you already have LEGO sets and spare parts, then you can get an overview of the parts you need by creating an account on rebrickable and type in all the sets and spare parts you have available. Once you have done this you shoud go to the rebrickable page for this model and click the

button. This will lead you to a page where you can see the additional parts you need. From here you can press the

button to see where to purchase these parts.
Building instructions for this LEGO model
The building instructions are made by building the LEGO models in MLCad. They are generated in your browser using buildinginstructions.js.
Contact
If you have any corrections or suggestions, please e-mail Lasse Deleuran at lassedeleuran@gmail.com.
Advertisement to keep the servers running