FAW Jiefang 6x4 (Discontinued)
Building instructions

Parts list

This model is controlled using LEGO Power Functions.

Difficulty: Medium.

Number of elements: 653.
#pcs
653
Created August 26, 2011.
Aug
26
2011
Go to this model which has replaced 'FAW Jiefang 6x4' and offers a number of improvements in reliability, stability and playability.
This model is replaced by
Scale: 1:25, Model Team.
Scale
1:25
"Number of wheel sets" x "Driven wheels": 6x4.
Type of Power Functions motor for drive: XL.
Gearing from motor to wheels: 5:9.
Differential type: Stiff.
Drive

6x4
Type of steering geometry: Linear.
Type of Power Functions motor used for steering: M.
Steering

Linear
This model has 2 opening doors
Doors

x2
Created by Lasse Deleuran.

Go to the YouTube video for this model.

View instructions on BrickHub.org

Go to the Brickshelf folder with this model.

Click to download .mpd file to be opened with LDraw tools such as MLCad and LDView.

About this model
Although designed to be robust, the combined liftarm and old style technic construction of this truck causes the frame to be rather fragile. This is one of the reasons why this model has been discontinued and replaced by the vastly superior model.
Other reasons include a poorly attached rear bumper, the saddle of the coupling being too tall to work properly and rear wheels with poor grip.
---
---
The Power Functions components of this truck are connected as follows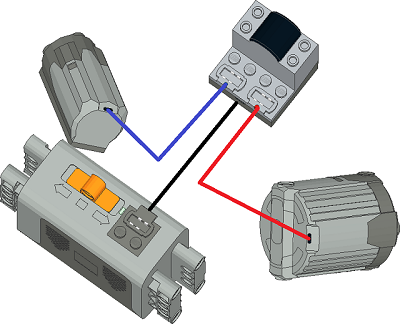 ---
Remote controls
We recommend using the Power Functions remote for controlling this truck.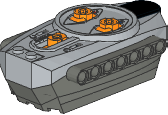 If the truck is to be driven by people who do not have experience with LEGO Power Functions, then we recommend using our modified remote which blocks the channel selector and uses a long axle as a pointing device.

How to build your own model
You can build your own copy once you have all the parts in the parts list.
Building instructions for this LEGO model
The building instructions are made by building the LEGO models in MLCad. They are generated in your browser using buildinginstructions.js.
Contact
If you have any corrections or suggestions, please e-mail Lasse Deleuran at lassedeleuran@gmail.com.
Advertisement to keep the servers running