September 12, 2014 Building instructions for "Le Mans prototype race car, an alternate model of set 31006 (white, red)" have been updated.
September 10, 2014 Building instructions for "Simple robot for the senior high school challenge of WRO 2014 (Dark Bluish Gray)" have been updated.
September 10, 2014 New building instructions for the model "The zebra from the zoo display in Hotel Legoland, Billund, 2014 (White)" have been added.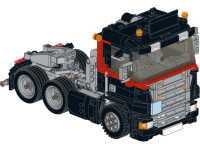 Scania R 6x4 by Lasse Deleuran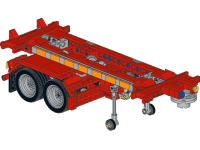 Container trailer for 20ft containers with legs activated by reversing by Lasse Deleuran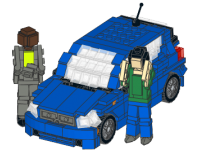 Psych characters Shawn, Gus and their Toyota Echo by Lasse Deleuran
c-mt.dk is a privately owned fan site for the classic LEGO theme Model Team. In Model Team you will find large realistic vehicles. The classic trucks are 12 studs wide, corresponding to a scale of 1:25.
Contribute
If you have a Model Team creation and would like to submit building instructions for it, then contact the site owner Lasse (lassedeleuran@gmail.com). We would love to have more creations that comply to the 1:25 standard, but creations in scale 1:22 (Hard Truck Challenge scale) and 1:13 are also appreciated.
Other Model Team Sites